RGS Union
Description: RGS Union with plenty of action across different stakes. This club should belong to your selection whether you like Texas Holdem or PLO!
Country: USA
Chip Value USD: 1 chip = 1 USD
Games: MTT, SNG, NLHE, PLO, PLO 5, OFC
Stakes: Micro-High
Rakeback: Up to 35%
Traffic: 100+ Active Tables
Rake: 5% Ring, Short table reduce half rake 2.5%, rake caps: .1/.2 6bb (Max 1.2) .2/.4~3/.6 5bb (Max 2~3) .5/1 4bb (Max 4) 1/2 3bb (Max 6) 2/4 2.5bb (Max 10) 3/6~5/10 2bb (Max 12~20) 10/20 1.5bb (Max 30)
Sapphire Union
Description: Sapphire union with great action for both Hold'em and Omaha players. Union is suitable for low stakes and high stakes poker players alike with a good variety of table limits running.
Country: USA
Chip Value USD: 1 chip = 1 USD
Games: MTT, SNG, NLHE, PLO, PLO 5, OFC
Stakes: Micro-High
Rakeback: Up to 35%
Traffic: 200+ Active Tables
Rake: 5% Ring, Short table reduce half rake 2.5%, rake caps: .1/.2 6bb (Max 1.2) .2/.4~3/.6 5bb (Max 2~3) .5/1 4bb (Max 4) 1/2 3bb (Max 6) 2/4 2.5bb (Max 10) 3/6~5/10 2bb (Max 12~20) 10/20 1.5bb (Max 30)
Paradise Union
Description: A new PokerBros Union which is growing rapidly. Currently the action goes up to 10/20 USD. Spotting a PLO player in these rings with under 50% VPIP is rare and even if you play poker just recreationally, you will likely end up making some profit in the small stakes at this club.
Country: USA
Chip Value USD: 1 chip = 1 USD
Games: PLO, PLO 5, PLO 6, OFC, MTT
Stakes: Micro-High
Rakeback: Personal
Traffic: 100+ Active Tables
Rake: Rake 5% Ring and 3% HU with cap 3bb. No flop – no drop system. OFC rake 3% with cap 3 points
All-in Union
Description: All-in Union is all about enjoying online poker, so expect a lot of splashy games to be found in this union.
Country: USA
Chip Value USD: 1 chip = 1 USD
Games: MTT, SNG, NLHE, PLO, PLO 5, OFC
Stakes: Micro-High
Rakeback: Up to 35%
Traffic: 150+ Active Tables
Rake: 5% Ring, Short table reduce half rake 2.5%, rake caps: .1/.2 6bb (Max 1.2) .2/.4~3/.6 5bb (Max 2~3) .5/1 4bb (Max 4) 1/2 3bb (Max 6) 2/4 2.5bb (Max 10) 3/6~5/10 2bb (Max 12~20) 10/20 1.5bb (Max 30)
Description: Diamond Union is your gateway to the action. If you love to play Heads-Up, this club offers tables as high as $25/50!
Country: USA
Chip Value USD: 1 chip = 1 USD
Games: MTT, SNG, NLHE, PLO, PLO 5, OFC
Stakes: Micro-High
Rakeback: Up to 35%
Traffic: 100+ Active Tables
Rake: 5% Ring, Short table reduce half rake 2.5%, rake caps: .1/.2 6bb (Max 1.2) .2/.4~3/.6 5bb (Max 2~3) .5/1 4bb (Max 4) 1/2 3bb (Max 6) 2/4 2.5bb (Max 10) 3/6~5/10 2bb (Max 12~20) 10/20 1.5bb (Max 30)
Description: Goodfellas Union, if you put it short, the action is sweet in cash games!
Country: USA
Chip Value USD: 1 chip = 1 USD
Games: MTT, SNG, NLHE, PLO, PLO 5, OFC
Stakes: Micro-High
Rakeback: Up to 35%
Traffic: 150+ Active Tables
Rake: 5% Ring, Short table reduce half rake 2.5%, rake caps: .1/.2 6bb (Max 1.2) .2/.4~3/.6 5bb (Max 2~3) .5/1 4bb (Max 4) 1/2 3bb (Max 6) 2/4 2.5bb (Max 10) 3/6~5/10 2bb (Max 12~20) 10/20 1.5bb (Max 30)
Description: A popular union among players from the Central America and the Caribbean. Worth having in your roster for both PLO & NLHE action!
Country: Central America
Chip Value USD: 1 chip = 1 USD
Games: MTT, SNG, NLHE, PLO, PLO 5, OFC
Stakes: Micro-High
Rakeback: Up to 35%
Traffic: 90+ Active Tables
Rake: 5% Ring, Short table reduce half rake 2.5%, rake caps: .1/.2 6bb (Max 1.2) .2/.4~3/.6 5bb (Max 2~3) .5/1 4bb (Max 4) 1/2 3bb (Max 6) 2/4 2.5bb (Max 10) 3/6~5/10 2bb (Max 12~20) 10/20 1.5bb (Max 30)
Pod Union
Description: Pod Union is suitable for both Omaha Hi and Texas Hold'em cash & tournament players looking for soft real games!
Country: USA
Chip Value USD: 1 chip = 1 USD
Games: MTT, SNG, NLHE, PLO, PLO 5, OFC
Stakes: Micro-High
Rakeback: Up to 35%
Traffic: 100+ Active Tables
Rake: 5% Ring, Short table reduce half rake 2.5%, rake caps: .1/.2 6bb (Max 1.2) .2/.4~3/.6 5bb (Max 2~3) .5/1 4bb (Max 4) 1/2 3bb (Max 6) 2/4 2.5bb (Max 10) 3/6~5/10 2bb (Max 12~20) 10/20 1.5bb (Max 30)
Pros
Much softer action than on traditional poker sites

PokerBros Review
For poker players familiar with PPPoker and/or Upoker, PokerBros will be a platform they find quite familiar, even though it doesn't involve real money poker. Instead, it offers private poker games, allowing you to enjoy poker on your iPhone, iPad, Android phone, or PC through an Android emulator. Although the application is relatively new, the user base is growing rapidly, and we believe it has the potential to become a strong contender among the dominant poker apps in the market.
Like other poker apps, PokerBros operates with chips that are essentially play money and are only used for keeping score, thereby bypassing local regulations. Playing on PokerBros provides a home game experience on your mobile device. Its popularity is rising in Asia, South America, and North America. If you need assistance or want to maximize rakeback, feel free to contact us using the chat button!
PokerBros operates slightly differently compared to traditional online poker rooms and networks. To help you get started, we've compiled all the necessary information in our review in a Q & A format. Continue reading to discover the most important features of PokerBros, starting with a quick gameplay review video to give you a glimpse of the action.
How does PokerBros operate?
PokerBros distinguishes itself as a decentralized poker app, employing trusted agents and PokerBros clubs to handle money transfers. The agent model, which utilizes a play money platform, has become the industry standard for various online poker apps. Unlike traditional poker rooms, there is no centralized or specific poker site operator organizing the game or guaranteeing payments. PokerBros solely provides the software for playing.
On the surface, the chips used in the game have no monetary value; they are considered 'play money' chips, specifically used for virtual home games. However, winning chips can translate into actual payouts based on their corresponding value within each club, which your agent will facilitate for you.
To foster larger player pools, club owners often collaborate and form PokerBros unions. This innovative concept enables you to participate in online poker games with a diverse range of players from various clubs worldwide, even if you initially have access to just one club.
Playing on PokerBros is a straightforward process: Your agent purchases virtual chips from PokerBros (available at a nominal price) and provides them to you with a set chip value corresponding to the chip ratio of the club where you're playing. A small rake is charged for participating in the game, and the standard practice for settling accounts with agents is typically on a weekly basis.
Specific payment methods are totally up to the players and what their agents offer, with most popular payment methods being Bitcoin or cash. You can read more about how to set up a Bitcoin account for online poker in our article about Cryptocurrency for online poker.
Why is PokerBros becoming so popular?
When you look at how play money poker apps operate, it's likely that PokerBros will also achieve global success. Let's explore some reasons why we believe it will gain immense popularity in the future:
Accessibility despite Local Legislation: Regardless of your local legislation's stance on online poker, all players can still enjoy PokerBros without restrictions.
Tax Considerations: Many countries impose taxes on online poker winnings, leading players in those regions to prefer PokerBros over paying heavy taxes on their poker earnings.
Diverse Player Pool: PokerBros offers the opportunity to play against opponents from all around the world, expanding your gaming experience beyond just your own country.
Player-Friendly Environment: While the PokerBros rake might not be as low as some international mega-brands in poker, the gameplay is notably softer, providing recreational players with more enjoyable games and professional players with a higher overall win-rate.
Convenient Payment Methods: The variety of payment methods available attracts numerous players to PokerBros. For instance, Bitcoin users, who currently face limitations on platforms like PokerStars, can easily make deposits on PokerBros using Bitcoin and begin playing right away.
PokerBros is poised to thrive as it offers unparalleled opportunities and a player-friendly ecosystem, making it an attractive choice for poker enthusiasts worldwide.
How does a PokerBros club look?
In the main view of the PokerBros app, you can conveniently access all the clubs where you are a member. By simply clicking on a club name, you'll seamlessly enter the lobby dedicated to that particular club, and with just a few clicks, you can find a suitable game to join. Joining a club is a straightforward process, requiring only the Club ID and Agent ID.
Moreover, if you aspire to host your own home games, PokerBros facilitates this option as well.
Once you've selected a club to play in, the app presents you with a comprehensive list of tables featuring the chosen game type, the number of players seated at each table, and the respective betting limits. It's crucial to note that all stakes are displayed with the chip ratio specifically tailored to your club, ensuring a smooth and personalized gaming experience.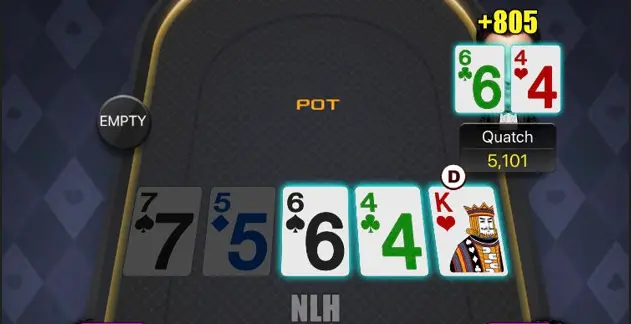 What about the interface, aesthetics and features of the app?
PokerBros software, developed by Beyond Games Limited, boasts a Gaming Labs Certificate of Integrity for its RNG, ensuring fair gameplay with an unbiased Random Number Generator. Players can expect an equitable distribution of good and bad cards in the long run.
In comparison to other poker sites and apps, PokerBros stands out with its advanced graphics and extensive customization options, allowing users to tailor the app to their preferences. While the overall structure of the lobby, menu, and tables resembles PPPoker and Upoker, this similarity simplifies the learning curve, making it easy to grasp the app's functionalities. Designed and optimized for smartphones, PokerBros offers a seamless experience on both iPhones and Android phones. In our testing with an iPhone 8, the poker gameplay proved to be highly enjoyable, even slightly surpassing some main competitors.
The portrait view is thoughtfully designed, enabling swift actions such as checking, betting, or raising at the tables. A mere 5-10 minutes of exploring the app will familiarize users with all necessary functions.
For in-app purchases, players can acquire PokerBros diamonds, available in various denominations from 60 to 6468 diamonds. With increased purchases, the rate becomes more cost-effective. These diamonds can be exchanged for desirable items like Time Banks, Emojis, Rabbits, and VIP cards. The VIP cards are available in three levels: Bronze, Silver, and Gold VIP.
The default deck appearance is clear and easily distinguishable, with each suit's color readily discernible in our experience.
Can you use HUD or tracking software such as HEM on PokerBros?
The PokerBros app was exclusively designed for recreational play, strictly prohibiting any player assistance from software. This approach demonstrates PokerBros' strong commitment to safeguarding recreational players from predatory tactics. They take the issue very seriously and have implemented robust security features, including algorithms capable of detecting players using assistance software or PokerBros HUDs. Any players caught engaging in such practices face severe consequences, such as being banned from the platform and potentially having their funds confiscated. Consequently, PokerBros ensures that players can only rely on their natural skills during gameplay. This commitment to fair play fosters a healthy and vibrant ecosystem for players, creating a better gaming experience for everyone who wishes to test their luck at the online poker tables.
What about chip value, games, action and the number of tables?
The chip values in PokerBros are entirely club-dependent. For instance, South American clubs typically use a chip value of 1 chip equal to one Brazilian Real, while North American clubs adopt 1 chip as equivalent to 1 USD. Similarly, Indian clubs may have chip values like 1 chip = 10 INR or other denominations depending on the stakes involved. When registering for a club and making your first deposit, it's essential to inquire about the chip ratio used in that specific club from your agent or club owner.
Regarding the games, the PokerBros app offers an extensive range of popular poker variants, including No Limit Texas Hold'em (NLHE), Pot Limit Omaha (PLO), and 5-Card Pot Limit Omaha (PLO5). Additionally, you can participate in PokerBros MTTs, running daily, with various guaranteed prize pools, some reaching several thousands of dollars. Tables accommodate 2 to 9 players, with the option of Heads-up tables for those who prefer one-on-one play.
Apart from cash games, PokerBros features sitewide tournament series and single-table tournaments. Sit and Gos were introduced to the gaming lineup in August 2020. Many Holdem tournaments on PokerBros attract a high number of entrants, resulting in substantial prizes at the final tables.
Club-based games
As a decentralized platform, PokerBros does not have a single player pool where all users congregate. Instead, players have the flexibility to explore and join various clubs until they find one that suits their poker preferences best, creating a sense of home within the app. Many live poker players have turned to PokerBros as their regular casino games might not be available, making the platform a welcoming choice for poker enthusiasts.
We highly recommend registering with multiple clubs from our club list to ensure you always have access to a vibrant and active gaming environment with plenty of exciting action.
Moreover, clubs have the option to join forces and create unions, which significantly expands their player pools. Being part of a PokerBros union allows you to access the player pools of other clubs within the same union, enhancing the variety and competitiveness of your poker experience.
How much are the rake and rakeback?
The standard rake on PokerBros is set at 5% and is capped at 3 big blinds (3BBs). For higher levels, such as NL200 and beyond, the rake cap is lowered to 2BBs. This rake structure is similar to what you would find on other mobile poker apps. Like typical online poker sites, PokerBros follows a "no flop – no drop" policy, and the rake calculation is based on the Weighted Contributed method.
Instead of offering traditional poker bonuses, PokerBros provides rakeback for all clubs. To ensure you get the best deal when registering, feel free to inquire about PokerBros cashback from our chat support!
Are there any promotional campaigns on PokerBros?
The PokerBros app extends a warm welcome to new poker players with an exciting offer. By simply downloading the PokerBros app, you can dive into the world of ring games or Multi-Table Tournaments (MTTs) played with gold coins. As soon as you register, you'll receive a generous 10,000 gold coins, allowing you to buy chips and explore various games with a plentiful play money bankroll. This exceptional opportunity lets you practice and hone your poker skills on the app before making your first real money deposit.
With this feature, PokerBros provides an ideal platform for beginners to familiarize themselves with the app's gameplay, rules, and features, all in a risk-free environment. Whether you're a novice or a seasoned player looking to try out a new poker app, PokerBros ensures you have ample opportunities to gain confidence and proficiency before venturing into real money games.
What about deposits and cashouts on PokerBros?
PokerBros stands as a vibrant social gaming platform for poker, exclusively catering to play money games and not providing any real money services to its users. When you play on PokerBros, you have the freedom to select your preferred deposit method either through an agent or directly with the club. The processing speed of withdrawals relies on both your PokerBros agent and the chosen withdrawal method. The most commonly accepted deposit methods used by clubs and customers include cash, bitcoin, e-wallets, or bank transfers.
Our commitment to our customers' safety and satisfaction is unwavering. We exclusively collaborate with reputable and trustworthy club owners who have a proven track record of promptly paying out winnings to players. By doing so, we ensure that our valued customers are shielded from any potential monetary risks or losses. Cashouts from the clubs are swiftly processed, and we offer weekly rakeback payments to all players who join a club through our platform.
As poker industry professionals with extensive connections, we boast wide access to clubs from diverse geographical locations. This enables us to present you with the most attractive games available on the PokerBros app. Feel free to contact our chat support to access the best deals and the most reliable clubs, ensuring a rewarding and enjoyable poker experience for you.
How to open an account on PokerBros?
To get started, the first step is to download the PokerBros app from either the Google Play Store or the Apple App Store, depending on the type of smartphone you have. Once the app is installed, click on the "register" button and create your account by entering your desired username and password. Now that your account is registered, simply reach out to us through the chat feature located in the bottom right corner of the website. We'll be delighted to connect you with the most exciting and rewarding clubs available on PokerBros, offering you the best rakeback deals for these clubs. With everything set up, all that's left is to log in and take your seat at the poker table to start enjoying some thrilling card games!
How to play on the PC version of the PokerBros app?
Even though the app is optimized for smartphones, PokerBros also gives you an option to play on a PC by installing an Android emulator. This way you can download the APK file and play on your Windows. Instead of a full-screen view, the Android emulator gives you the same portrait view as when playing on your phone.
Type in your browser www.PokerBros.net and once it loads, click the 'GET IT ON GOOGLE PLAY' option. Once you've downloaded the APK file, open it in your Android emulator. From there on you can register a user and start joining the best PokerBros clubs.
DISCLAIMER:
• PokerBROS is not a sponsor of or in any way involved with this promotional activity, nor does PokerBROS endorse it.
• PokerBROS is an online social gaming platform and does not provide any real money service.
Is PokerBros rigged or legit?
PokerBros holds a certificate from Gaming Labs to ensure that the randomness of the dealing sequence is legitimate. When you sign-up through Beasts Of Poker, your deposited funds are also 100% guaranteed. Before we started cooperation with PokerBros, our team met their CEO and developers and so far we are convinced they are in a good position to grow fast in the race of the private poker apps!
Where to download the PokerBros app?
Visit their official website at https://www.pokerbros.net/ and click a download link from either Google Play or App Store.
Can I use an emulator to play on PokerBros?
Absolutely! PokerBros works smoothly with Android emulators.
How do I make my first deposit and withdrawal on PokerBros?
Deposit and withdrawals on PokerBros are handled through agents. Get in touch with our BeastsOfPoker chat on our website or contact us on Skype or email at [email protected]
Can you play on PokerBros with a PC?
Yes – although there is no software for Windows yet, you can download the app from Google Play and run it through an Android emulator. Then you're ready to play on PokerBros with your desktop computer at home.
How to get the PokerBros APK file for Android?
Quickly visit the website at https://www.pokerbros.net/ and click Google Play download link.
Can you play on PokerBros with a Mac?
Unfortunately not by using the Mac OS client – you can run the app through Windows via Bootcamp and then installing an Android emulator and the PokerBros APK file.
Is my deposit safe at PokerBros?
Yes, by joining and making a deposit at PokerBros through Beasts Of Poker your deposit is guaranteed 100% by our company should something unexpected occur.
Can I play on PokerBros for free?
Yes – just join our own PokerBros club called Beasts Of Poker and you will find many freerolls with guaranteed prize pools! Read more about our club in the club from section 'Premium Poker Bros Clubs with Money Guarantee'.
What are the highest stakes played on PokerBros?
There are multiple tables of NL1k and PLO1k are running at the peak times – if you are a player who prefers to play high-stakes, just get in touch with us on the chat to get started access to these games!
What is an agent at PokerBros?
People who act as contacts between real money clubs and players are called PokerBros agents. The responsibilities of agents include processing player deposits & withdrawals, and help players in finding the best poker rooms and clubs to their preferred poker game formats and table limits.
Is PokerBros app available to players in the United States?
Yes – PokerBros has been actually developed in the US, and many unions are offering games to poker players from the United States.
What is the minimum deposit on PokerBros clubs?
Generally $200 is the minimum deposit for all the private clubs you can access through Beasts Of Poker, but our own club on PokerBros can be accessed also with a smaller deposit. Get in touch with us on the chat and we will clarify the terms and conditions for starting to play.
How can I contact PokerBros support?
You can contact PokerBros support team directly at [email protected]